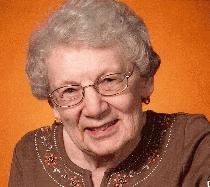 Ruth Eileen Leidinger, 83, of Bellefontaine, died at 9:29 PM Saturday, March 30, 2013, at the home of her niece, Susie Bodenmiller, in Quincy.
She was born January 21, 1930, in Logan Co., a daughter of the late Loren E. and Helen E. Huber Williamson.
On August 4, 1972, she married John Edward Leidinger in De Graff and he died August 27, 1998. She was also preceded in death by a Sister and Brother-in-Law; Mary and Harold Hanks; Brothers-in Law; George and Robert Leidinger and Don Bodenmiller, Brother-in-Law and Sister-in-Law; Herman and Flora Leidinger.
Survivors include, Sister; Martha Bodenmiller of De Graff, Nieces; Shirley (Jim) King and Connie Hanks both of Bellefontaine, Susie Bodenmiller of Quincy, Nephews; Mike Bodenmiller of South Charleston, Ray (Julie) Bodenmiller of Bellefontaine, Jim (JoAnn) Bodenmiller of Springfield, Sister-in-Law and Brother-in Law; Dolores and Paul Finnerty of Reynoldsburg, Sisters-in-Law; Rosella and Josephine Leidinger both of Columbus.
A graduate of De Graff High School she was a retired Bookkeeper at Huntington National Bank in Bellefontaine where she worked for twenty nine and a half years. She was a member of De Graff United Methodist Church, Bellefontaine Friendly Senior Center and several Bridge Clubs.
Her body is being cremated and there will be no calling hours. A graveside service to inter her ashes will be held on Saturday, April 6, 2013 at 11:00 A.M. in Greenwood-Union Cemetery, DeGraff, with Pastors Kymberly James and Bill Halter officiating.
The family suggest memorial contributions be made to charity of the donor's choice.