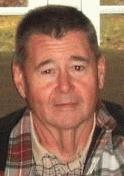 Jerry Wayne Allen, 66, of Quincy, died at 10:55 PM Thursday, May 2, 2013, at his home in Quincy.
He was born, January 4, 1947, in Swanders, OH, a son of the late Clinton O. and Mary Helen Allison Allen. He was also preceded in death by a Brother; Cecil Allen and a Sister and Brother-in Law; Grace & Earl Zirkle.
On June 5, 1993, he married Roberta Frances (Bobbi) Seelenbinder in Quincy and she survives. Other survivors include a Son; Larry Allen of Quincy, three Daughters; Tammy (Darin) Kennedy and Penny (Steve) Thompson both of Troy, and Cindy (Chris) Mahan of Urbana, eight Grandchildren, a Sister; Opal (Roy) Wones of Quincy, three Brothers; Earl (Lucille) Allen and Charles (Phyllis) Allen both of De Graff and Roger (Pamela) Allen of Quincy.
He was a 1965 graduate of Riverside High School and he served in the Ohio Army National Guard attaining the rank of Sergeant. He served as a Pastor at the Buckeye Gospel Barn in Quincy. He loved to sing and play music and he enjoyed fishing.
Funeral services will be held at 11:00 AM on Tuesday, May 7, 2013 Rexer-Riggin-Madden Funeral Home, DeGraff, with Pastor Rick Smith officiating. Burial is in the Greenwood-Union Cemetery, DeGraff. The family will receive friends at the funeral home on Monday, May 6, 2013 from 2 to 4 and 6 to 8 P.M.
The family suggest memorial contributions be made to Buckeye Gospel Barn.
Condolences may be expressed at www.timeformemory.com/madden