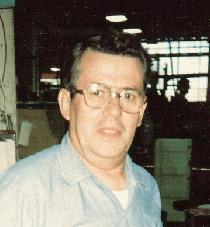 Earl Edward Allen, 80, of De Graff, died at his home Friday, June 14, 2013.
He was born September 30, 1932, in Sidney, a son of the late Clinton O. and Mary Helen Allison Allen. He was also preceded in death by a Son; Wayne Edward Allen, a Grand Daughter; Mindy Allen, two Brothers; Cecil and Jerry Allen and a Sister; Grace Zirkle.
On March 11, 1950, he married Mary Lucille Hughes in Urbana and she survives. In addition to his wife of 63 years he is survived by his children; Michael Ray (Linda) Allen of Quincy, Tony Lee (Tessie) Allen of California, Maryland, Michelle Tonnette (Chris) Iman of Urbana and Jeffrey Lynn Allen of De Graff, two Brothers; Charles (Phyllis) Allen of De Graff, and Roger (Pamela) Allen of Quincy, a Sister; Opal (Roy) Wones of Quincy, 11 Grand Children, 24 Great Grand Children and 6 Great Great Grandchildren.
He was a retired Tool & Die Maker from Le Roi Dresser in Sidney. He enjoyed bowling and cutting wood, was a devoted husband and father and attended the Church of Christ in Christian Union.
Funeral services will be held at 11:00 AM on Tuesday, June 18, 2013 at Rexer-Riggin-Madden Funeral Home, DeGraff, with Pastor Brad Angus officiating. Burial is in the Springhills Cemetery, Springhills. Friends may call at the funeral home on Monday, June 17, 2013 from 2 to 4 and 6 to 8 P.M.