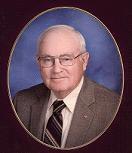 Holmes Irving Bell, 83, of Quincy, died at 5:50 PM Friday, July 26, 2013, at Logan Acres.
He was born September 1, 1929, in Quincy, a son of the late Russell Holmes and Florence Ward Bell.
On April 28, 1951, he married Evelyn Louise Evans in Pasco and she died March 30, 2009. He was also preceded in death by three Sisters; Catherine Bell, Vera Wood, and Estelle Everingham.
Survivors include four Sons; Keith (Bonnie) Bell of Bellefontaine, Chuck (Paula) Bell of Quincy, Mike (Diane) Bell of Amesbury, MA and Randy (Stacey) Bell of Bellefontaine, two Brothers; Ronald (Marguerite) Bell of Quincy and Norman (Irene) Bell of Benson, AZ, eight Grand Children and twenty three Great Grand Children.
A 1947 graduate of Quincy High School he was a life long resident of Miami Township where he farmed. He served in the U.S. Army during the Korean Conflict where he attained the rank of Sergeant. He was a member of the Quincy United Methodist Church, Gideon's International, Logan County Farm Bureau, Chapter #6 of International Harvester Collectors and at one time served as a Director of the Production Credit Association.
Funeral services will be held at 11:00 AM on Wednesday, July 31, 2013 at Rexer-Riggin-Madden Funeral Home, DeGraff, with Pastor Frank James officiating. The family will receive friends at the funeral home on Tuesday, July 30, 2013 from 2 to 4 and 6 to 8 P.M. Burial is in the Fairview Cemetery, Quincy with military honors provided by the Logan County Honor Guard.
The family suggest memorial contributions be made to the Quincy United Methodist Church.