2004 - 2023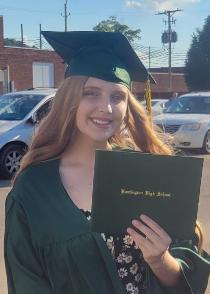 Haley Grace Triplett, 19, of Kenova, WV, passed away Tuesday, May 23, 2023. Funeral services will be conducted at 2 p.m. Tuesday, May 30, 2023 at the Wallace Funeral Home & Chapel, Barboursville. Burial will follow in Triplett Cemetery, Branchland. She was born March 19, 2004 in Huntington, a daughter of Nathan Triplett (Brittany) of Kenova and Kristen Triplett (Chris Gamble) of Huntington. She was preceded in death by her maternal grandmother, Kimberly Steinbrecher; paternal grandfather, John Triplett; aunt, Amy Gates; uncle, Daniel Triplett. She is survived by her paternal grandmother, Alecia Poti; maternal grandfather, John Scheid; paternal great-grandmother, Linda Poti; sisters, Emmarie Gamble and Abigail Gamble; brothers, Nathan Kade Triplett and Tyler Bailey; aunts, Jamey Triplett and Elizabeth Scheid; and uncles, Daniel Lambert, Benjamin Lambert and William Brucato; Henry Bailey and family; and several relatives and friends. Visitation will be from 1 to 2 p.m. Tuesday prior to the service. Online condolences may be expressed to the family at www.timeformemory.com/wallace.
---
There are currently 4 condolences.
Godfrey
Monday May 29, 2023 at 8:47 AM

Sorry for your loss
Hailey Rose
Sunday May 28, 2023 at 9:44 AM

The world is so dim without you 🕊️
Ashton Black
Saturday May 27, 2023 at 2:33 PM

Haley was a very high spirited soul.. she had the most infectious smile and laugh. The memories will live on forever. Rest easy sweet girl 🕊️
Nicole Blankenship
Saturday May 27, 2023 at 2:07 PM

Just wanna say how sorry I am for her family and people who loved her to have to lose such a beautiful person inside out.. I love her as mine own this breaks my heart for her little sisters and brothers.. they are so young to have to feel so much pain!! I'm just so heartbroken 💔 💔💔😢😢 rest in paradise you sweet beautiful girl😢 you are dearly missed already..
---