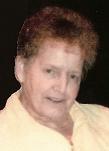 Glenna Mae Shirley, 63, of Quincy, died at 7:40 PM Saturday, September 21, 2013, at Cridersville Healthcare Center, Cridersville, OH surrounded by her family and friends.
She was born March 17, 1950, in Welch, WV, a daughter of the late William Eli and Rebecca Jane Shepherd Lester. She was also preceded in death by two Brothers; Okey and Osie Lester.
She was married to Roy Shirley and he died October 12, 1997.
Survivors include two Daughters; Debra L. (Jeffrey) Walter and Kathy (Ryan) Williams both of Wapakoneta, OH, a Step Daughter; Deanna Morrison of Kentucky, a Brother; Otis (Shannon) Lester of Welch, WV, two Sisters; Sylvia (Max) Crabtree of Quincy, OH and Brenda (Bill) Robinson of DeGraff, OH, six Grand Children; Ashley Bradley, Amanda Fouse, Greg Bradley, Alex and Adam Walter and Brooke Williams, two Step Grandsons; Tom and Mike Morrison and one
Great Grandson; Mason Lambert.
She was a retired Restaurant Cook and a member of Solid Rock Church in Sidney, OH. She loved to fish, go to yard sales and play cards. Her family meant everything to her.
Funeral services will be held at 11:00 AM on Thursday, September 26, 2013 Rexer-Riggin-Madden Funeral Home, DeGraff, with Pastor Bobbi Allen officiating. Burial is in the Fairview Cemetery, Quincy, OH. The family will receive friends at the funeral home on Wednesday, September 25, 2013 from 2 to 4 and 6 to 8 p.m.