1933 - 2014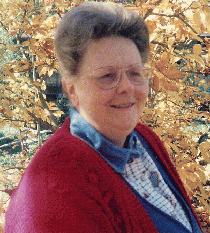 Lois Marie Butts, 80, formerly of De Graff died at 9:30 AM Thursday, January 30, 2014, in Lebanon.
She was born August 5, 1933, in Cleveland, a daughter of the late Roy H. and Nellie Marie Egolf Rock.
On July 11, 1953, she married James Harrison Butts in Cleveland and he died September 16, 1969. She was also preceded in death by a Sister; Martha Jane Rock and a Brother; David S. Rock.
Survivors include Daughter; Carolyn (Wade) Frank and her family James, Alexander and Adam Frank all of Lebanon, Daughter; Cynthia (Gary) Hoekstra of Wittenberg, WI and her family, Desiree (Donnie) Howell, Cullen Thurs, Reagan and Hartlyn Howell all of Loxley, AL, Aaron Hoekstra of Robertsville, AL and Jeremy (Alyssa) Hoekstra and Quintin of Silverhill, AL.
She and Jim spent the first several years of their married life in Cleveland where she was Executive Secretary to the CEO of Carnegie Steel. In 1964 they moved to Quincy and then in 1968 to De Graff. In 1996 after retiring from JTPA in Bellefontaine she moved to Grant's Pass, OR where she resided until 2012. She made many wonderful friends and enjoyed many new experiences and a wonderful retirement in the Great Northwest.
Services will be held at 11:00 AM on Tuesday, February 4, 2014 at Rexer-Riggin-Madden Funeral Home, DeGraff, with words of comfort by Randy Satterfield and Greg Swenson. Burial will follow in the Greenwood-Union Cemetery, DeGraff. The family will receive friends at the funeral home on Monday, February 3, 2014 from 5 to 7:30 P.M.
---
There are currently 12 condolences.
Ohio longtime friend
Saturday January 31, 2015 at 7:35 PM

It has been a year since your precious Mother passed from this earthly scene. Thoughts continue with care and understanding to all touched by this loss.
Cheree Corcoran
Tuesday February 4, 2014 at 12:34 PM

Sorry for your loss of your mom. We have some special memories, good laughs that we will always remember. She never did give us her buckeye recipe!
Skip Wiford
Tuesday February 4, 2014 at 11:52 AM

Carolyn & family, You are in our thoughts and prayers at this time. Skip & Beth WIford Tim & Susan Thompson Popper Lisa Bell Mike Jenkins Teresa Parker
Harry and Nancy Shaw
Monday February 3, 2014 at 5:11 PM

Dear Carolyn and Family: We are thinking of you in the loss of your dear Mother and Grandmother. This separation is always difficult, but thankful now she can be with the one she was living for and up holding here. Our Love to you all. Harry, Nancy Shaw and family
Beth Morris Carver
Monday February 3, 2014 at 3:50 PM

Dear Cindy, Carolyn and families, Special thoughts of you all. My dad always thought so much of your mom and her parents and I, too, have always appreciated your mom. Glad for One who can give you comfort.
Mary Fields
Sunday February 2, 2014 at 8:22 PM

Dear family, Cindy, Gary, Caolyn, Webb, and grandchildren, Thinking of you these days. Your loss is her gain. Remembering your Mom and her love for God. Your friemd, Mary
Marla Howell
Saturday February 1, 2014 at 10:07 PM

So sorry for your loss. We have many fond and wonderful memories of time your mother spent with our family. Thinking of you at this difficult time. Love, The Howell family
Rick and Terry Lingenfelter
Saturday February 1, 2014 at 9:52 PM

We were sad to hear of your mother passing. Our thoughts and prayers are with all of you. Have many memories of visits over there and you all coming to our folks.
Julie (Lehman) Pasta
Saturday February 1, 2014 at 12:56 PM

I have many wonderful memories of Lois in the times we visited OH. She will be missed!
Lynne Combs
Saturday February 1, 2014 at 12:10 PM

I am so sorry to hear of your mother's passing. I have had many an enjoyable time at your parents house. You all will be in my thoughts and prayers.
Leah Bailey
Saturday February 1, 2014 at 10:01 AM

Thinking of you dearly Cindy and Carolyn in the loss of your dear, dear Mom. Have so many wonderful memories of times together. May you know comfort and peace from the true Comforter. Do very glad for Lois's faithful life.
Charles and Pat Sasser
Pjsasser@aol.com
Saturday February 1, 2014 at 9:41 AM

Our sincere condolences to your family in your loss, and especially to Carolyn and her family.
---