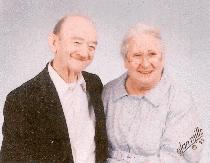 Edgar and Pearl Greer Rogers, husband and wife, of Grayson, KY, went to be with their Lord after a lifetime of commitment to one another and their faith.
Mrs. Rogers, age 90, passed away Thursday, August 17th, 2006 at Carter Nursing and Rehabilitation Center.
Mr. Rogers, age 87, passed away Friday, August 18th, 2006 also at Carter Nursing and Rehabilitation Center.
Pearl was born December 9th, 1915 at Grayson, a daughter of the late William and Katie Crager Greer. In addition to her parents, she was preceded in death by one brother, Bill Greer, and four sisters: Sarah Miller, Virginia Stidham, Kate Miller, and Myrtle Vanhoose.
Edgar was born July 20th, 1919, at Grayson, a son of the late Oscar and Anna Mullins Rogers. In addition to his parents, he was preceded in death by nine brothers: Virgil, Herbert, Homer, Arvil, Chester, Leonard, Linville, Billy Gene, and Donald Rogers, and two sisters: Maxine Messer, and Joyce Wheeler.
Their survivors include:
Four sons:
Charles E. Rogers and his wife, Freda
William A. "Dub" Rogers
Paul D. Rogers
Delmar R. Rogers and his wife, Wannetta all of Grayson
Grandchildren:
Charles Douglas Rogers and his wife, Teresa
Shonda S. Hay and her husband, Tom
Paul Randall Rogers and his wife, Clayetta
David W. Rogers
Christopher L. Rogers and his wife, Nancy
Trena Greene and her husband, Jason
Beverly J. Fields and her husband, Mike
Erica R. Perkins and her husband, J.C.
Aimee J. Claxon
Joshua R. Rogers
Great-Grandchildren:
Christopher Rogers
Jenna Rogers
Nathan Caudill
Derrick Hay
Evelyn "Evie" Rogers
Jascie Greene
Lakole Fields
Levi Fields
Jacob Perkins
Emma Perkins
Caleb Claxon
Lydia Claxon
Pearl's Twin Brother:
Earl Greer of Grayson
Edgar's Two Brothers:
Vernon Rogers
J.C. Rogers both of Grayson
Pearl was a Christian for over 74 years. She served the Lord as a Sunday School Teacher, Church Secretary, and pastor's wife. She was selected as a WSAZ Hometown Hero and had received the distinction of being named a Kentucky Admiral. She and her brother, Earl, celebrated their 90th birthday as the oldest set of twins on record in the state of Kentucky. Pearl loved to sew and made her own clothing and many quilts.
Edgar was a Christian for over 68 years and an ordained Christian Baptist minister for over 67 years. He was currently serving as Honorary Pastor of Johns Run Tabernacle and had served the Lord as the pastor of Huffs Run Community Church, E.K. Community Church, and Johns Run Tabernacle. Edgar preached many revivals throughout the tri-state and had seen many souls saved. He performed hundreds of weddings and officiated hundreds of funerals.
Edgar and Pearl were heroes for Jesus. They leave behind a legacy of love and service as an example for their many friends and loved ones to follow. Their joint funeral service will be held Sunday, August 20th, 2006 at 2:00 pm at the Malone Funeral Home with Delmar Rogers, Bryan Whitt, and Leonard Gollihue, ministers. Visitation will be held Saturday, August 19th, from 4:00 to 9:00 pm at the Malone Funeral Home. Burial will be in the Rogers-Messer Cemetery.
In lieu of flowers, the family requests that donations be made to the Johns Run Tabernacle Building Fund in care of Delmar Rogers, 1596 Huffs Run, Grayson, KY 41143. Condolences can be made to the Rogers Family at www.malonefuneralhome.com.