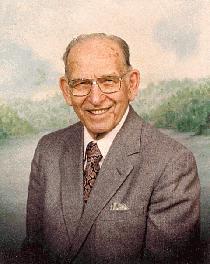 Rev. F.M. (Jack) McNurlin, age 95, passed from this life to his heavenly home, Tuesday, August 29, at the home of his daughter, Frances, and son-in-law, Charles Tolliver, Jr. of Hitchins, Kentucky, after an extended illness. He was born February 15, 1911, to the late Rev. John and Pearl Buckley McNurlin in Fairview, Kentucky. His wife, Harriet Fitch McNurlin, preceded him in death March 3, 1993. He is survived by their daughter, Harriet Frances Tolliver, son-in-law, Charles Tolliver, Jr., and granddaughter, Gloria Dawn Tolliver, all of Hitchins, Kentucky.
Also surviving are his sister, Laura Marie Crose, of Russell, his brothers, Roy McNurlin of Bellefonte, Paul Ed McNurlin (Ailene) of Osage Beach, Missouri, and Donald Ray McNurlin (Lois) of Bradenton, Florida, and sisters-in-law, Ruthie Bell McNurlin, Lucy McNurlin, Rita McNurlin, and Ruth McNurlin. He was preceded in death by sisters, Lennie Lutz, Bessie Brown Roberts, and Pearl McNurlin, brothers, James W. McNurlin, John Q. McNurlin, Walter McNurlin, Harry McNurlin, Sr., and George McNurlin.
He was an employee of Armco Steel, Wurts Brothers Dodge, was ordained a minister of the Wesleyan Church in 1954, and then served as pastor at the Hitchins Wesleyan Church for 36 years. He was a Kentucky Colonel, a charter member of the Carter County Ministerial Association, on the District Board of Administration of Kentucky Wesleyan Church, was awarded a 40 year medallion from the General Wesleyan Church, was honored with a street marker at the Maysville Wesleyan Camp, was a "Carter County School Daddy" at the Glancy Fork School, and gave many assembly programs and assisted in many high school graduations at Hitchins High School.
The body is at the Malone Funeral Home at Grayson with visitation on Thursday evening from 5:00 to 9:00 PM. The funeral will be at 2:00 P.M. on Friday, September 1 at the Malone Funeral Home. Officiating will be Rev. Fred Andrews, Rev. Clell Elliott, Rev. Glenn Black, Rev. George Smith, and the Rev. Dennis Romans. Burial will be at Rose Burial Burial Park.
In lieu of flowers, please make donations to the Hitchins Wesleyan Church, P.O. Box 97, Hitchins, Kentucky 41146, the Maysville Wesleyan Camp, P.O. Box 156, Paris, Kentucky 40362, or Gideons.