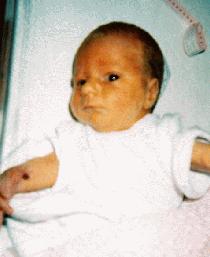 Little Miss Linda Diane Chappell, infant daughter of Jimmy Chappell and Monica Raye Shockley, passed away suddenly Thursday, February 1, 2007 in Pensacola, FL.
Little Linda was born December 29, 2006 in Sacred Heart Hospital in Pensacola. She was a precious gift from God and was loved and cherished by her family and their many friends.
Besides her parents she is survived by her brothers, Lazarus Thomson, Pensacola, and Logan Cook, Carrollton, sisters, Patience Cook, Carrollton, Bianca Chappell, Carrollton and Kirstin Chappell, Opelika, AL maternal grandmother, Linda Lossick, Pensacola, paternal grandmother, Shirley Chappell, Carrollton, maternal great grandparents, Cheryl and Russell Price, Temple, and Harold Hulsey, Hiram, maternal great great grandparents, Alvin and Viola Price, Fairbank, Iowa, aunts and Uncles, Joshua Lossick, Dallas, Jessica Lossick, Dallas, Jessica Shockley, Lula, GA, Danielle Lossick, Dallas, Carla and Jarrettt Hand, Carrollton, and Freda and Danny Taylor, Bremen, and several cousins also survive. She was preceded in death by her paternal grandfather, Jimmy Chappell, Sr.
Funeral services will be conducted Sunday, February 4, 2007 at 2 o'clock from J. Collins Funeral Home in Villa Rica with Rev. Dan Jones officiating
The family will receive friends at the funeral home Saturday from 6 until 8 p.m.
Interment will follow the service in Forest Lawn Cemetery in College Park
Condolences may be sent to the family at www.jcollinsfuneralhome.com
J. Collins Funeral Home of Villa Rica in charge of arrangements.