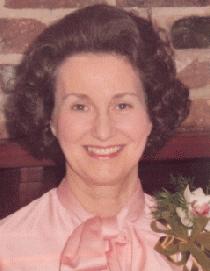 Mrs. Helen Lackner Vansant, 85 of Villa Rica, passed away Wednesday, May 16, 2007.
Mrs. Vansant was born July 9, 1921 in Brooklyn, NY, the daughter of the late Rudolph and Marie Lackner. Mrs. Vansant had been a resident of Villa Rica since September of 1953 when she and her husband, the late Dr. James Irvin Vansant, made Villa Rica their home. She devoted most her time to her duties as a homemaker, raising 5 daughters, and assisting Dr. Vansant in his medical practice. Mrs. Vansant was a loving and devoted wife, mother and friend and had been a member of Our Lady of Perpetual Help Catholic Church for a number of years.
Survivors include daughters and sons-in-law, Sue Ann and John Rogers, Gainesville, Patty Vansant and Johnny Nielsen, Atlanta, Mary Beth and Dr. Bryant Day, Temple, Jamie Vansant, Villa Rica, Laura and David Bagley, Villa Rica, 22 grandchildren and 27 great grandchildren also survive. Beside her parents Mrs. Vansant was preceded in death by her husband Dr. James Vansant, sisters, Marie Sanderlind, and Frances Waldron and a grandson, Van Rogers.
Funeral service will be conducted Saturday, May 19, 2007 at 11 o'clock from The Happy Valley Baptist Church with Rev. Donna Bagley officiating. Music will be provided by David, Donna and Chris Bagley.
The family will receive friends at the funeral home Friday from 2 until 4 and 6 until 8 P.M.
Interment will follow the service in the Our Lady of Perpetual Help Catholic Church Cemetery.
Mrs. Vansant's Grandsons will serve as pallbearers. Honorary pallbearers will be Dr. Larry Boss, Dr. Larry Price, Dr. Virginia Price, and Dr. Evangelio Gonzalez.
In lieu of flowers the family request that donations be made to Carrollton Nursing and Rehab Center; 2327 North Highway 27, Carrollton, GA 30117 For additional information and to send condolences to the family please visit our web site at www.jcollinsfuneralhome.com
J. Collins Funeral Home & Cremation Service in charge of arrangements