1938 - 2012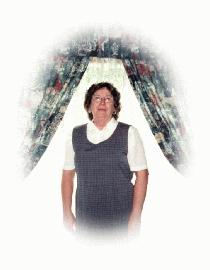 Janet Frazier Maynard 73 of Donithon Road Louisa, went to be with her Lord and Savior on Wednesday May 2nd.
Janet was born Dec. 21, 1938 at Louisa, the daughter of the late Clifford Frazier Sr. and Ruth Hall Frazier. She was a homemaker, member of the Cherryville Missionary Baptist Church, and a devoted Sunday School Teacher.
She is survived by her loving family, husband Charles Maynard; daughter and son in law Kathy and Rick Barrett of Ashland, KY, son and daughter in law Chuck and Dee Maynard of Louisa, precious sister Nadine Little also of Louisa, a special sister-in-law Elaine Frazier also of Louisa; four grandchildren Andrew Barrett, Aaron Barrett, Amber Maynard, and Nathaniel Maynard; several nieces and nephews.
She was preceded in death by her brother Clifford Frazier Jr.
A Celebration of her life will be held at 10:30 am on Saturday May 5th at the Wilson Funeral Home. Burial will follow in the Maynard Cemetery on Donithon Road Louisa.
Friends may call after 4:00 pm Friday at Wilson Funeral Home.
---
There are currently 7 condolences.
Robin (Preece) Parker
Saturday May 5, 2012 at 5:48 AM

The Lors has gained a truly wonderful saint-my prayers are with Janet's family and friends. If you knew her, you had to love her. What a beautiful woman, inside and out!
Yvonne Jordan Abdon
yvonneabdon@yahoo.com
Friday May 4, 2012 at 3:13 PM

My deepest sympathy goes out to those who loved Janet. She was indeed a lovable, Beautiful, and precious lady. As you know, we lost our mom last week and I do know what you are going through. Mommy and Janet both fought a disease but now they are well, with their loved ones, and Jesus. "No more sickness, no Pain, and no more parting over there, Cause today I will be with the One who died for me, What a day , glorious day that will be"! I love you all and am praying for you. Yvonne Jordan Abdon
Barbara Frazier Wireman
Friday May 4, 2012 at 7:30 AM

We are so very sad for your loss. We loved Janet very much and will sorely miss her bright smile and loving manner. Our very best love to Charles, Chuck, Kathy and Deanie. We will remember you in our prayers. We are in Florida right now so will not be able to attend the services but we hope you will understand. We are visiting our sister as we also think our family is the most important thing. Lots of love, Barbara & Jimmy
ROSE FRAZIER CORD SPENCER
rcspencercpa@yahoo.com
Friday May 4, 2012 at 7:21 AM

Dear Kathy and Chuck, I am so sorry to hear of Janet's passing. My sister Barbara and I visited with her right before Christmas in 2010 and enjoyed sharing old family pictures and geneaology information with her. I thought the world of Janet, she was a kind and gentle soul. I know she will be greatly missed. Love, Rose
Shirley Frazier Richardson
Friday May 4, 2012 at 7:17 AM

So sorry for the loss of cousin Janet - I remember many summer visits when I was a child and she was always a sweet and gracious host to her younger cousins. You will be in my prayers.
Darrell and Sharon Ratliff
Thursday May 3, 2012 at 11:44 PM

Our community lost a wonderful soldier for the Lord.Our loss is Heaven's gain.We are so sorry for your loss goes to all the family.May God Richly Bless you all
Dee Dee, Kevin & Deedra Kise
Thursday May 3, 2012 at 8:46 PM

Chuck, so sorry to hear about your mom. Our thoughts & prayers are with you all...
---