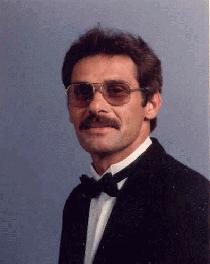 Randy Litteral
1958-2003
Randall Louis "Randy" Litteral, 45, of Clio, Mich., formerly of Greenup, Ky., died Monday, April 21, 2003, in McLaren Regional Hospital in Flint, Mich.
Mr. Litteral was born March 4, 1958, in Greenup County, Ky., a son of Juanita Darlene Chandley of Greenup and the late Robert Louis Litteral.
He was also preceded in death by two brothers, Robert Litteral and Richard Litteral.
Additional survivors include his wife, Jackie Sue Caldwell Litteral of Clio; his grandmother, Lydia Miller of Greenup; three sons, Randall Keith Litteral and Kevin Edward Litteral, both of Ann Arbor, Mich., and Russell Wayne Bryant of Otisville, Mich.; three daughters, Carol Ann Litteral and Roberta Linn Litteral, both of Cloud, Mich., and Jena Renee West of Knoxville, Tenn.; four sisters, Linda Bryant of Lloyd, Ky., and Karen Brown, Patricia Traylor and Melissa Worthington, all of Greenup; and four grandchildren.
The funeral will be held at 11 a.m. Thursday, April 24, 2003, at Wright's Funeral Home in Greenup by Ed Johnson and Bill Oaks. Burial will be in Poynter Cemetery in Argillite, Ky.
Friends may call after 6 p.m. Wednesday, April 23, 2003, and after 9 a.m. Thursday, April 24, 2003, at the funeral home.