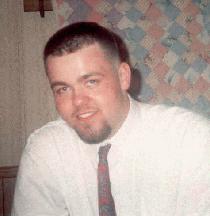 Nathan Cox
1977-2003
Nathan Cory Cox, 26, of Ashland, Ky., died Monday, April 7, at his home.
Mr. Cox was born Jan. 15, 1977, in Ashland, a son of Danny and Vicki Cox Barnett of Ewing, Ky.
He was a computer technician for A.C.C. Multi Media Resource Center.
Additional survivors include three brothers, Danny Barnett Jr., Jeremy Barnett and Cody Barnett, all of Ewing; an aunt, Naida Cox of Wurtland, Ky.; and two uncles, Danny Cox of Greenup and Kenneth Hall of Georgetown, Ky.
There is no funeral service.
Visitation will be at Wright's Funeral Home in Greenup on Thursday, April 10, 2003, from 6 to 9 p.m. with a prayer service at 7 p.m. by Bro. Jerry Summers.
In lieu of flowers, donations may be made to American Diabetes Association Memorial and Honor Program, P.O. Box 2680, North Canton, Ohio 44720.